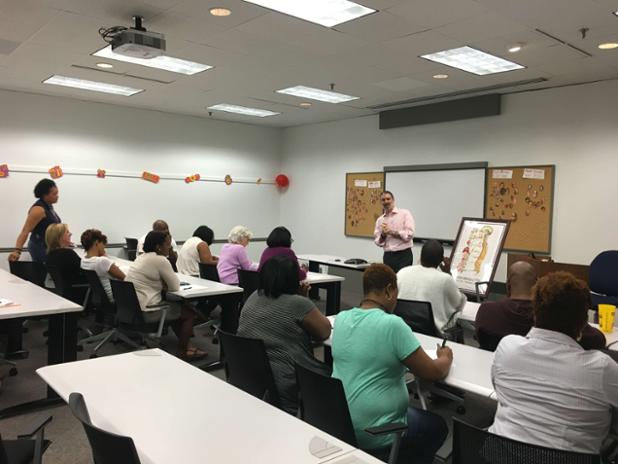 Great participation and attendance at our latest Lunch and Learn with CSS corporate health gig. Thanks to Tucker O'Charley's for the great food. Learn with CSS at your company today.
Our Corporate Classes
Companies lose billions each year from health-related problems. This results in employee absenteeism and decreased productivity. To help alleviate this costly situation, CSS offers health education workshops for employees. We also participate in health fairs and special events, such as Employee Appreciation Days.
Our workshops are 15-45 minutes, held at your location, and focus on training your employees. Our education focuses on teaching proper nutrition, ergonomics, stretching, injury prevention, and stress reduction. These sessions are intended to introduce your employees to techniques that can reduce workplace injuries, increase worker productivity, and generally improve the quality of the work environment. Improvements in any of these areas offer benefits to both the employer and employee.
For health fairs and special events, we provide:
On-site chair massage
Stress awareness surveys
Blood pressure testing
Digital postural screening
Body composition analysis
When teaching about health, it's important to have food on the agenda.