Behind the Scenes The Internship Interview
Before moving back to Singapore, Dr. Shapiro interviewed graduate chiropractic student Julia about her experience interning at CSS.
Dr. Shapiro: What did you get most out of the internship here at Complete Spine Solutions (CSS)?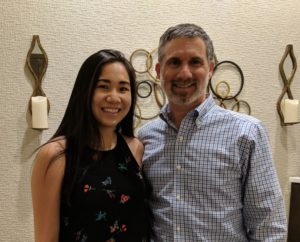 Julia: I learned how to look at clinical cases, to take x-rays, to digitize the points on the x-rays. To be able to figure out what the patient's posture is, and what they need in terms of traction. Just taking the class in school did not prepare me for that. [In school] We barely get to use the traction. We were taught to site the coordinates and how to transfer the coordinates [into posture], and what that posture means. They didn't really teach you how to correct that [particular postural problem]. [In addition] They teach you what a subluxation is, but they don't teach you the clinical aspect of it.
That is what I got out of the internship. To confidently say that I know what the patient's posture is, and how to correct it.
Dr. Shapiro: You aren't saying that your post-graduate education at Life University regarding Chiropractic BioPhysics (CBP) was bad, there is just not enough hours in the class [right]?
Julia: It was just really basic. They give you a good foundation telling you what Chiropractic BioPhysics is, but you don't really go in too much detail, because there are not enough hours [in the class].
What You Learned
Dr. Shapiro: Can you share some other things you learned here as part of the internship with CSS?
Julia: I learned from the internship front desk [role]; I learned how to schedule patients, interact with patients, and what the procedure is when they leave [after their visit].
Dr. Shapiro: How is that going to be of value to you?
Julia: Well it's good because, I am not going to do front desk [role as I as I now a doctor of chiropractic], but at least I know how to train my front desk staff. I'll know they are doing the best at their role. I know what to look out for now, and I can tell them, "hey, if you do this, it's going to change the patient's whole trajectory in the office and their whole experience."
What I have learned the most from the internship is how to read a patient, and the psychology behind it. How to talk to them and not give into anything negative they say, and how to reframe it into something positive.
Impact
Dr. Shapiro: How will that experience impact you going forward?
Julia: It's going to be great because you're not going to have certain patients that are going to want to come in. You are going to have patients that don't want to be there [in your office] or are going to complain, and you are going to have to deal with that.
I have learned from the internship that it's nothing personal. It's mostly what happens with them throughout the course of the day or something they are doing outside of the office that they are bringing in [to your office] and taking it out on you [or your staff]. I have learned not to take it personally, be silent, and then let them vent, and after that, say what you need to say.
Patient Transformation
Dr. Shapiro: You have seen patients go through quite a significant amount of care because you have been here for 6 months. Have you seen peoples personality change from the time that they come in?
Julia: Yes, all the time. We usually see this with patients that are in a lot of pain and hurting when they come in, or personal injury [car accident] cases when they are in a crash and their whole life is just torn apart. They come in super down, don't want to talk, just in a lot of pain. When they start feeling better they get so bubbly, so happy, and they are super excited to be around. It's really awesome because when they first come they are down and it brings their energy down.
I've learned [the internship here at CSS] that you have to see the best in people. When you do, they actually get excited about treatment. It's like, Wow! You are actually this really cheerful happy person and it's really nice to see.
Dr. Shapiro: We see that a lot. They come in with this hardened shell. We start to peel away the [outer] layers as they start to heal. Not just their pain level improves, but also when they start feeling physically, physiologically, and neurologically better, that it actually has an impact on who they are. That carries beyond this office.
You have a person who goes home in a totally different mood than when they first started treatment. A person who was grumpy all the time or who was in chronic pain and suffering. That has an impact on their family and work. When you can positively change that, it is an incredible transformation that people go through. Through CBP [corrective] care it impacts not just how they feel, it impacts their world.
Julia: Yes, and a lot of times they are frustrated with the care that they have gone through [prior to coming into the internship at CSS] with no results. Unfortunately, patients do come in here as a last resort.  They don't really know about CBP. When they find us and they have already been through the medical system; they are frustrated. We see most patients who are upset [and frustrated]. But it's great because when they do leave [our office], they become great referral resources for us.
Feedback & Growth On The Internship
Dr. Shapiro: You did amazing! The feedback I received from patients and our team about you, is unbelievable. I have the utmost confidence in you. I feel really good about you going into practice [in Singapore].
You are going to have a significantly easier time [in practice]. Not just because of the internship here, but [because] you are an amazing person. Additionally, you are incredibly social and friendly. No one can't not like you…it's impossible. You are always smiling, happy, and bubbly. You exude confidence and you are smart. I am gushing on all the great things about you.
When I first met you, even though you had all those amazing qualities, I wasn't sure. You just never know until someone comes in [the internship], how it's going to go.
You gave it 110%. Also, you were there whenever we needed you. You went above and beyond. You did an amazing job. Here's what I am hoping: I told you this in the very beginning of the internship, I want you to say upon graduation that this was the best thing that you did [in chiropractic school]. So here we are 6 months later. Do you feel that way?
Julia: 100%. Being at this office, CSS's Brookhaven location, I was able to do so many things. I was able to do a lot more things than I expected, and I exponentially grew. I have learned a lot of clinical things for my future practice here from the internship. Definitely.
Our Different Intern Experience
Dr. Shapiro: Great feedback. There are other Life [University chiropractic] students that are considering us and other [chiropractic] offices [the internship]. You have seen plenty of offices, been around many chiropractors and chiropractic students. What would you say to a prospective intern when making a decision to come [the internship] here, or not.
Julia: If they are really wanting to do CBP, then this is definitely, hands down the best office to do that. If they were interested in other aspects of chiropractic, then obviously this is not a great fit for them. But definitely, CBP, this office hands down, and I have been to other CBP offices in greater Atlanta.
Dr. Shapiro: Why do you say that?
Julia: Because of how systematic we are in our treatment plan. The doctors are [here at CSS are] very thorough with the care. They have a system [of care] they follow, which is really nice because when you are starting to learn, you want to learn it through a system. There are other offices where you aren't going to learn it step by step. Here, they explain the reasons why the patient needs this and doesn't need that. I would pick this office.
Recap
Dr. Shapiro: To summarize, you did fantastically. We love you and you were amazing. It turns out we [really] needed you and you stepped up. I have a lot of confidence in you going forward. Practice is tough; it's really hard. Remember, you only got to experience a tip of the iceberg in the last six months. Consequently, there is so much more to it. If you do everything you did here, you are going to be able to handle [practice challenges] without a problem.
Julia: Towards the end [the internship] Dr. Mike was helping me with my consultation and examination. I was able to do it on some of the patients. That definitely gave me more confidence to do that in practice as well.
Dr. Shapiro: I want you to know, as you go out into the world, you can make the long distance call because you are going to be in Singapore. You can make that long distance call to us any time, and you can call with any questions. Just because the internship here is ending and we won't be seeing each other on a regular basis, I want you to know that you can reach out to any of us at any point and we are going to do our best to help you.
Julia: I am going to take you up on that.
Dr. Shapiro: When you come back to Atlanta, come back and visit. Furthermore Julia, I want to thank you for giving us some great feedback. You are just an amazing person, and I am super excited to hear about your successes. You are going to have many. Once again Julia, thank you so much.