Imagine Being Fulfilled in Your Career, Every Day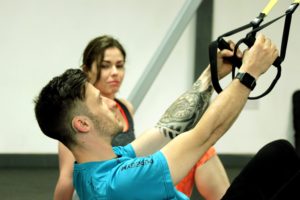 Sales Reps Needed
Does your current job lack purpose and fulfillment?
Would you like to know you've made a difference in people's lives every day?
Would you like to be a contributing member of a tight-knit, professional team?
Would you like to grow and develop into a leader?
That's what we offer if you desire to start the most fulfilling, rewarding career you've ever imagined.
Who's Right for this Career
Complete Spine Solutions is looking for a business development professional for our two, Atlanta locations. This empowered, highly impactful, growth-position will make you excited to come into the office if you have what it takes for this Full-Time position in a No Drama Office.
If you, or someone you know, loves people, is a great multi-tasker, has a track record of proven product sales experience (healthcare preferred), they might be a good fit, please share.
Base Salary: Based on Experience +Bonuses, +401K +Profit Sharing.
We are currently looking for two, happy, high-energy, health-minded, people-person who will thrive as contributing team members in a fast-paced, multi-tasking, positive, healthy environment. This position is challenging and is perfect for someone who can juggle many tasks at once, provide a very high level of customer service, great at understanding that it's not just about the close, but really the relationship.
PERKS Include:
Early finish on Friday (usually by 2 PM, we're done!)
Career advancement (no ceiling here)
Personal development
Career development
Drama-Free workplace
Performance bonuses
Rewarding, fulfilling, purpose-driven healthcare opportunity
Leadership development
Requirements/Responsibilities:
Product sales experience of at least 2 years
Inspiring people to live happier, healthier lives
Excellent computer and communication skills
Knowing how to quickly build rapport with patients and potential patients
Exceeding patient expectations & celebrating successes
Public speaking
Must be able to do local outside sales as well
No phone calls, please. Hiring Immediately.
Loyalty and Long-Term Mutual Commitment:
It is important to us that you have demonstrated loyalty and long-term commitment to your previous jobs and employers. We won't interview any job-hoppers! You must have solid references from those employers. We want someone who can envision growing with us for 5 or more years.
For this to happen, we need to provide you with a great opportunity, a competitive income, bonuses, stability, and excitement. We must offer you a rewarding work environment, without drama, and inspire you to look forward to coming to work every day.
If all of the above sounds exciting, we look forward to hearing from you.
***To be considered for this position, email resume, and desired salary. Important: Cut and paste the following phrase into the subject line of your email to us: Attention to Details – Sales
Please note: This is a full-time position. You will be compensated, rewarded, and promoted accordingly.
Email to docposture@gmail.com. No phone calls, please.