Is CSS Right for You?
The fact that you're on our website probably means you're ready to take action to improve your health. While it's easy to use medicine for some fast pain relief, it's quite another thing to determine the real cause of the problem and find a permanent solution.  Is CSS Right for You? Our ideal patients don't want surgery: they just want to get their lives back and do the things they never thought possible again!
As a prospective patient, we think you will be pleased with our results if you:
Do not want invasive approaches with side effects to solve your health issues
Want to find the root cause of your health problem, not just address the symptoms
Are looking for a long-term solution and not a quick fix
Want the most advanced, all-natural spinal care available*
Desire to get the best results in the shortest possible time
Want a customized, non-cookie cutter, proven approach to solving your problem*
Want to be treated as someone with great health potential, not as a dollar sign
Understand that optimal spinal structure = optimal health = optimal functioning of the body
Understand that creating an optimal spine requires a commitment of both time and money
Are looking for something different and more effective than what you'd find in traditional chiropractic, physical therapy or MD setting
Accept responsibility to keep your appointments and do your customized home exercises
Are goal-oriented: You want starting and ending points in your care, which are based on sound science and measurable results
We don't believe our doctor/patient relationship will work well for either of us, if you:
Expect just to get your back "cracked." If you believe that only a few tweaks to your spine will deliver a significant improvement in your health, then we're probably not a good fit. Traditional chiropractic adjustments are not proven to make permanent change in spinal posture/structure.
Are shopping for the least expensive chiropractic care. In making measurable changes to your spine and overall health for the long term, our highly experienced clinical team uses the most advanced spinal corrective protocols. In addition, you'll get exceptional customer service, with virtually no wait time. While our treatment can, and usually does, cost you less in the long run, you'll pay more upfront because that's when most of the work is done. Remember that making a significant investment in your health now will save you tons of money as you age. We offer a variety of payment options.
Expect spinal change in short order. Spinal correction is a scientifically based protocol that is a process. When you move one area of the spine, the other areas also move, which means we periodically reevaluate your progress to make sure you're getting the best results in the shortest possible time. Then, when we're done, your spine will be in a better overall position than before – and your symptoms will be either dramatically improved or completely gone.
Are not motivated to change your life. Our treatments and procedures take commitment: Patients must work hard and stay the course to achieve significant results. You must engage and participate in your own healing process, including keeping your appointments and enduring slight discomfort during some stages of treatment.
Two Levels of Care
All CSS patients have two treatment options: (1) Relief Care delivers fast pain relief for your specific problem; and (2) Spinal Correction ensures better overall health and wellness with spinal improvement.  Wherever you are in the process, we're here for you!
Two Convenient Locations in Brookhaven and Tucker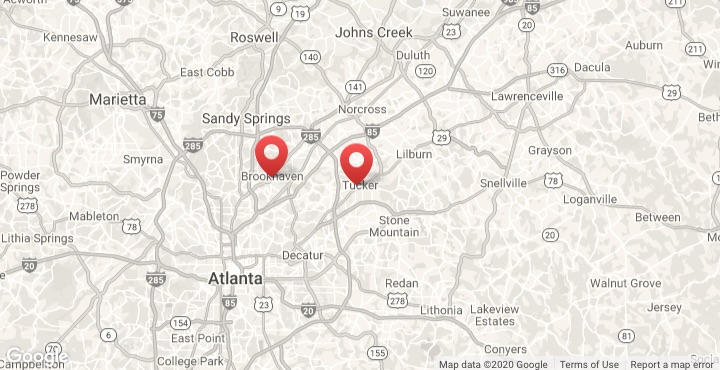 Tucker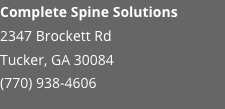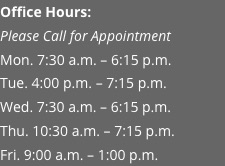 Brookhaven