Frequently Asked Questions
Our Chief Wellness Officer Dr. David Shapiro sits down to answer new patients' mostly frequently asked questions.
F.A.Q.
Click the questions below to learn more.
Is there a good way to know, prior to coming into the office, if you will be able to help me?
As a prospective patient, we think you will be pleased with our results if you: *Do not want invasive approaches with side effects to solve your health issues *Want to find the root cause of your health problem, not just address the symptoms *Are looking for a long-term solution and not a quick fix *Want the most advanced, all-natural spinal care available* *Desire to get the best results in the shortest possible time *Want a customized, non-cookie cutter, proven approach to solving your problem* *Want to be treated as someone with great health potential, not as a dollar sign *Understand that optimal spinal structure = optimal health = optimal functioning of the body *Understand that creating an optimal spine requires a commitment of both time and money *Are looking for something different and more effective than what you'd find in traditional chiropractic, physical therapy or MD setting *Accept responsibility to keep your appointments and do your customized home exercises.
What conditions do you typically treat?
Spinal misalignments can cause pinched nerves, muscle spasms, headaches, back pain, neck pain, slipped discs, and sciatica. Application of Complete Spine Solutions Spinal Correction has helped to relieve or eliminate these symptoms, as well as a host of other conditions, such as ADHD, allergies, asthma, stomach problems, bedwetting, carpal tunnel syndrome, colic, ear infections, PMS, scoliosis, whiplash, etc. We do not treat these conditions directly, but as the spine returns to proper positioning, the stress on the nervous system is reduced and the body begins to heal itself. As such, we can often bring our patients out of pain and back to optimal function without the need for medications or surgery.
Do I need x-rays?
Although many chiropractors are not taking x-rays these days, we liken it to a mechanic who works on your car without looking under the hood. It may be necessary to take digital X-rays to scientifically confirm the best treatment for your particular spinal structure/condition. These images are high quality, with the low radiation exposure, much like those typically found only in the finest hospitals. The radiographs that we take pose no increased risk of cancer. We will give you a copy of your radiographs, along with a full explanation, at your Report of the Doctor's Findings (second) visit.
Why is your initial examination not like other offices that I see that charge only $49?
You get what you pay for. I assure you, our examination is the most detailed examination you've ever received. Here's what we do: Following the consult, we will perform a number of orthopedic, neurologic, range of motion, and digital postural tests, to determine which body tissues are affected and to what extent. Our findings will help us identify specific areas of your body that need attention, from a musculoskeletal, neurologic, and physiologic standpoint. We make every effort to explain to our patients what we do, and why we do it, so you can fully understand what is going on in your body.
Are you open on the weekend?
Our office is not open on the weekend. My incredible team works really hard all week to deliver the best healthcare experience for every patient we see. I let them have time with their family and friends on the weekend.
What does the Consultation consist of?
You will meet with the doctor and review your medical history and current health issues. To gain a global perspective on your symptoms and determine the underlying cause, the doctor will ask numerous questions about the problems you're experiencing. During this session, you should feel free to openly discuss your health-related conditions, as well as your expectations and concerns.
What are the best exercises, or other things I can do on my own, for easing back pain?
Walking: If you want to accelerate your healing time, think motion. Motion releases endorphins, your body's natural pain reliever. Walking is a basic human motion that eases lower back pain. It not only releases endorphins but also pumps toxins out of the lower back discs, which are hypersensitive to pain. Walking is a great, basic exercise that we encourage our patients to do so as soon as they are able.
Knee Pulls: While lying flat on your back, pull your right knee straight up towards your right shoulder, holding it in place with your hands. Hold for 30 seconds then switch legs. Repeat a few times a day. This flexed position takes pressure off the rear joints in the lower back. It is a great stretch for tightened lower back muscles and ligaments.
Prior to beginning any exercise regimen, please consult your local chiropractor certified in Chiropractic BioPhysics. You can search for a Basic or Advanced Certified doctor near you here: http://cbppatient.com
What can I do to prevent back pain?
Stretching and core strengthening exercises are great for preventing back pain. The foundation of the strength of your body is your "core" region, the area located around your lower back and abdomen. Keep this area strong and flexible by doing core strengthening exercises such as planks. Always use good form. As you begin to fatigue, pay close attention to your form. If your hips start to sag downward, stop this exercise. Exercises that burn a lot of calories to help keep the "weight off" will decrease the stress that belly fat puts on your lower back. These exercises consist of aerobic type exercises like running, swimming, cycling, etc. Consult your doctor before starting a new exercise regimen. Additionally, eating a proper diet will give you the best chance at getting to and maintaining a proper weight, for overall better health and avoidance of weight-related health conditions, including pain.
When and why should you consult a chiropractor about your back pain?
Consult a chiropractor certified in Chiropractic BioPhysics (CBP) when you experience any of the following:
Sharp lower back pain – could be a disc herniation or other acute spine or organ issue that needs to be addressed.
Back pain lasting more than a week – could be something serious that won't resolve on its own. This is less likely a muscle spasm and more of an injury that should get medical attention.
Pain, coldness, tingling or weakness in the legs, feet or toes – this is generally inflammation of sensory or motor nerves. Vascular issues should be ruled out when more basic spine care does not resolve these symptoms.
A loss of bowel or bladder function – this is a medical emergency, go directly to the ER! – could indicate spinal cord compression and warrants immediate emergency medical attention. After the emergency is taken care of, have your spinal structure thoroughly evaluated by a CBP chiropractor to determine the root cause of the problem.
What should I NOT do if I have back pain?
We recommend that patients who have back pain avoid compressive forces on the disc. This happens with seated as well as standing overhead presses. Also, avoid sit-ups and leg lifts that put significant strain on the lower back. As a general rule, when your back hurts, avoid prolonged sitting. As stated previously, motion is the better course of action.
What's better, ice or heat?
Ice is best for most acute type pain. It has been proven to be a more effective pain blocker than heat in most cases where injury or inflammation is involved. Heat is more often used for chronic, non-inflammatory conditions such as arthritic degeneration. Ice should be applied as close to the skin as possible, but not directly on the skin. Twenty minutes works best to penetrate the tissue and have a pain relieving effect.
Are you sick & tired of living with pain and physical limitations?
Are you ready to regain your health and enjoy a more active, fulfilling life? Schedule your free 15-minute consultation.
"…I love this place. They have worked miracles with me and I'm looking forward to continued progress not only with my spine, but my overall health!"
Our Patients Say It Best
Our patients trust Complete Spine Solutions with their health and the health of their families and friends. View their success stories to see what a difference our unique corrective spine treatment can make in your life.
Two Convenient Locations in Brookhaven and Tucker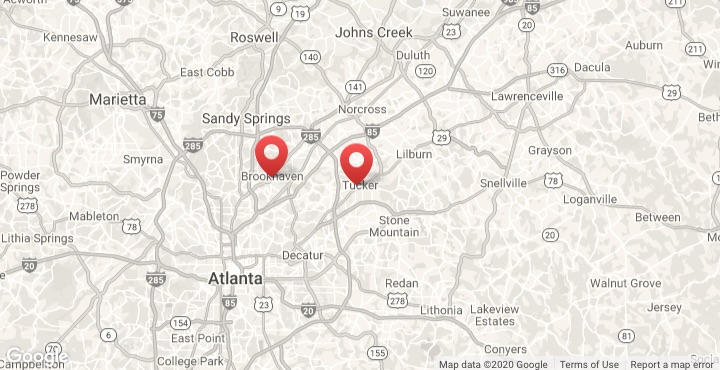 Tucker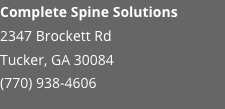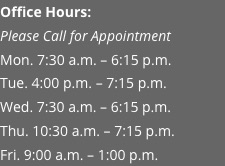 Brookhaven